Join host Chase Hendrickson, MD, from Vanderbilt University Medical Center, as he discusses a recent JCEM article with Steven D. Wittlin, MD, from the University of Rochester Medical Center and Mary Korytkowski, MD, from University of Pittsburgh. The article featured this month, by Tatulashvili et al, is from the October 2022 print edition of JCEM: "Ambulatory Glucose Profile According to Different Phases of the Menstrual Cycle in Women Living With Type 1 Diabetes."
Click here to log in and listen to the episode!
Meet the Speakers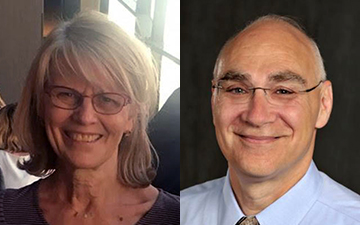 Mary Korytkowski, MD, is Emeritus Professor of Medicine in the Division of Endocrinology, Diabetes, and Metabolism at the University of Pittsburgh School of Medicine. She served as Assistant Director (1989–1992) then Director (1992–1995) of the Pittsburgh Diabetes Center, Medical Director of the UPMC Center for Diabetes and Endocrinology (1995–2006), Director of Quality Improvement (2001–2020), Chair of the Diabetes Inpatient Safety Committee (DPSC) (2001–2020), and Interim Division Chief (2012–2016). Dr. Korytkowski's research interests include interventions that promote glycemic and metabolic control in individuals with or at risk for diabetes and inpatient glycemic management. She served as a member of the Professional Practice Committee, the Board of Directors, and the Research Grant Review Committee for the American Diabetes Association and as a member of the Clinical Guidelines Committee for the Endocrine Society. She chaired the writing panel for the 2022 Endocrine Society Clinical Guideline for Management of Hyperglycemia in Hospitalized Adult Patients in Non-Critical Care Settings. She served as a member of the editorial board for The Journal of Clinical Endocrinology & Metabolism (2014–2018) and as a member of the ABIM Endocrinology Subspecialty Board (2014–2020). Dr. Korytkowski's clinical and research interests have focused on outpatient and inpatient care of people with diabetes. She has authored more than 150 peer-reviewed manuscripts, invited commentaries, reviews, and book chapters.
Steven Wittlin, MD, received his medical degree from Sackler School of Medicine, Tel Aviv University, and completed his residency, including serving as chief resident, at Booth Memorial Medical Center in New York. Dr. Wittlin completed his fellowship at New York University. He is a past Chief of Endocrinology and Assistant Chairman of Medicine at Booth Memorial Medical Center. Currently, Dr. Wittlin has been Professor of Medicine at the University of Rochester School of Medicine and Dentistry for more than 25 years. There he also serves as Director of Diabetes Services and Clinical Director of the Endocrine-Metabolism Division at the University of Rochester Medical Center. Dr. Wittlin's research interests include diabetes, diabetes technology, and innovative treatments for diabetes. He has published numerous peer-reviewed articles and book chapters and received several teaching awards.