Join host Chase Hendrickson, MD, from Vanderbilt University Medical Center, as he discusses a recent JCEM article with Amal Shibli-Rahhal, MD, from University of Iowa Carver College of Medicine and Ann E. Kearns, MD, PhD, from Mayo Clinic. The article featured this month, by Fan et al, was first published online in JCEM in September 2022: "Inpatient Zoledronic Acid and Integrated Orthopedic and Fracture Liaison Services Improve Osteoporosis Treatment Rates".
Click here to log in and listen to the episode!
Meet the Speakers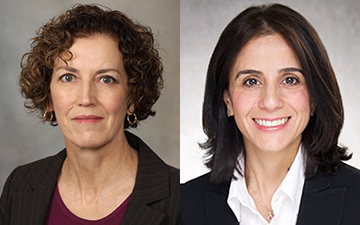 Ann E. Kearns, MD, PhD, obtained her internal medicine training at the University of Chicago Hospitals and her endocrinology training at Massachusetts General Hospital. She joined the Mayo Clinic in Rochester, Minn., in 1998. She directs the osteoporosis clinic there. Dr. Kearns has expertise in osteoporosis, calcium disorders, and metabolic bone disease. She is also involved in quality improvement especially in osteoporosis evaluation and management after a fracture. Dr. Kearns' research interests are the relationship between osteoporosis and cardiovascular disease and the potential role of estrogen in the development of both diseases. She has been involved in the Kronos Early Estrogen Prevention Study, a trial of hormone replacement early after menopause inception. Her study has examined detailed bone density and biochemical markers of bone turnover in women in the program, with the goal of determining how cardiovascular disease and bone loss are affected by estrogen versus aging.
Amal Shibli-Rahhal, MD, MSc, MME, received her medical degree from the American University of Beirut and completed her post-graduate training in internal medicine and endocrinology at the University of Iowa. Dr. Shibli-Rahhal is professor and endocrinologist at the University of Iowa, where she also acts as the Associate Dean for Student Affairs and Curriculum at the University of Iowa Carver College of Medicine. Previously, Dr. Shibli-Rahhal acted as Endocrinology Fellowship Program Director, preclinical Course Director for the College of Medicine, and Associate Chief of Staff for Education at the Iowa City VA. In addition to her role as Program Director, Dr. Shibli-Rahhal also created and serves as Director of the University of Iowa Metabolic Bone Clinic.