Join host Chase Hendrickson, MD, from Vanderbilt University Medical Center, as he discusses a recent Journal of the Endocrine Society article with Alan Dalkin, MD, from University of Virginia and guest expert Suzanne Jan De Beur, MD, from The Johns Hopkins University School of Medicine. The article featured this month, by Martín-Román et al, was published in the January 2023 issue of JES: "Vitamin D Deficiency Reduces Postthyroidectomy Protracted Hypoparathyroidism Risk. Is Gland Preconditioning Possible?".
Click here to log in and listen to the episode!
Meet the Speakers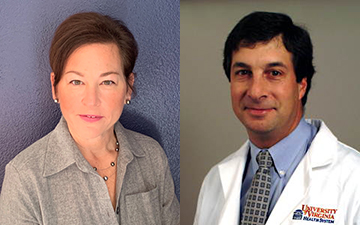 Suzanne Jan de Beur, MD, is an associate professor of medicine at the Johns Hopkins University School of Medicine and Director of the Clinical Research Unit Network of the Johns Hopkins Institute for Clinical and Translational Research. She received her BA and her MD degrees from Cornell University. She completed the Osler Medical Residency at the Johns Hopkins Hospital and her fellowship in endocrinology and metabolism at the Johns Hopkins University School of Medicine. As a physician-scientist and a practicing endocrinologist, her clinical and research work focuses on understanding rare and metabolic bone diseases at the basic level and translating these observations to the bedside. She is an internationally recognized expert in osteoporosis and metabolic bone disease and is frequently invited to speak internationally on skeletal health. Dr. Jan de Beur is leader in several professional organizations and is past president of the American Society of Bone and Mineral Research. She served as an associate editor of JBMR Plus, Primer on Metabolic Bone Disease and Disorders of Mineral Metabolism, and Current Osteoporosis Reports. Dr. Jan de Beur's work has been published in high-impact journals, including The New England Journal of Medicine, Journal of the American Medical Association, Journal of Clinical Investigation, and The Lancet.
Alan Dalkin, MD, graduated college and medical school from the University of Michigan, completed a residency program in internal medicine at The University of Chicago, and returned to the University of Michigan for a fellowship in endocrinology and metabolism. He remained on faculty in Ann Arbor for one year after completing his training before joining the faculty at the University of Virginia. He is currently a professor of medicine in the Division of Endocrinology there and serves as Vice Chairman for the Department of Medicine, having numerous roles in departmental operations and leading the effort in faculty development along with promotion and tenure. He holds a Harrison Distinguished Teach Professor of Medicine endowed chair. Dr. Dalkin has served on the residency review committee for the American Council on Graduate Medical Education, has served as program director for the Division of Endocrinology at Uva, and has held numerous key positions in the Association of Program Directors in Endocrinology and Metabolism. He also leads the annual production of educational and testing products for the Endocrine Society. His clinical work is predominantly in the area of metabolic bone disease with an emphasis on osteoporosis and hyperparathyroidism. Dr. Dalkin has been recognized for his clinical work with a number of awards, including departmental recognition such as Attending of the Year, and having been selected to America's Top Doctors and Best Doctors in America, along with having been recognized with an award for Best Bedside Manner. He has published numerous articles in peer-reviewed journals and authored a number of invited reviews in the area of osteoporosis. Dr. Dalkin has been invited to deliver numerous local, state-wide, and national presentations in the area of osteoporosis, metabolic bone disease, and disorders of vitamin D.