Join host Chase Hendrickson, MD, from Vanderbilt University Medical Center, as he discusses a recent article in The Journal of Clinical Endocrinology & Metabolism with Marcela Vargas Trujillo, MD, from University of California, San Diego, and guest expert Alan Rogol, MD, PhD, from University of Virginia. The article featured this month, by Rodprasert et al, was published in the December 2022 issue of JCEM: "Reproductive Markers of Testicular Function and Size During Puberty in Boys With and Without a History of Cryptorchidism."
Click here to log in and listen to the episode!
Meet the Speakers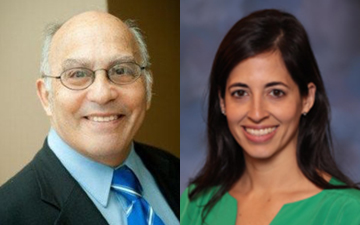 Alan D. Rogol, MD, PhD, is Professor Emeritus (pediatrics and pharmacology) at the University of Virginia (UVA). He received an undergraduate degree in chemistry from the Massachusetts Institute of Technology and doctorates in medicine and physiology (endocrinology) from Duke University. He completed a residency in pediatrics at the Johns Hopkins Hospital. Following a fellowship in endocrinology at the National Institutes of Health, he moved to UVA, ultimately serving as professor of pediatrics and pharmacology and chief of the Division of Endocrinology. Since 1999, Dr. Rogol has led an eclectic existence, first in the pharmaceutical industry and then as a safety monitor, but continuing to practice pediatric endocrinology and to teach at UVA and Riley Hospital for Children in Indianapolis (2009–2013). He has been a member and chief of the American Board of Pediatrics, sub-board in endocrinology; secretary of the Lawson Wilkins Pediatric Endocrine Society (now known as the Pediatric Endocrine Society); vice president of the Endocrine Society. He is a Fellow of the American Academy of Pediatrics and the American College of Sports Medicine and a member of the American Pediatric Society. Dr. Rogol has been the recipient of the Human Growth Foundation Lifetime Award, the Judson J. Van Wyk Prize for Career Achievement in Pediatric Endocrinology from the Pediatric Endocrine Society, and the Lifetime Achievement Award in Pediatric Science from the Child Health Research Center from the UVA. His interests in endocrinology have included growth and puberty and, lately, the endocrinology of sport and exercise. Dr Rogol has published more than 600 scientific articles, is a member of several editorial boards, and was the co-editor of The Encyclopaedia of Sports Medicine: An International Olympic Commission (IOC) Medical Commission Publication (vol 11): The Endocrine System in Sports and Exercise.
Marcela Vargas Trujillo, MD, is a pediatric endocrinologist and Associate Professor of Pediatrics at the University of California, San Diego (UCSD), and Rady Children's Hospital. She did her pediatric residency at Cincinnati Children's Hospital and her pediatric endocrinology fellowship at Children's Hospital of Pittsburgh of University of Pittsburgh Medical Center. Some of her research has been in the field of neuroendocrinology, specifically in the area of the hypothalamic-pituitary-gonadal axis. She has done basic research on kisspeptin signaling, anatomic distribution, and its control of the menstrual cycle in primates; and she is currently involved in clinical research in the area of central precocious puberty. Dr. Vargas Trujillo treats a variety of endocrine conditions but has a particular interest in managing patients with disorders of puberty and differences in sex development (DSD). She is the co-director of a multidisciplinary clinic for children with DSD at Rady Children's Hospital. She has an active role in educating medical students, residents, and fellows at UCSD.