Join host Chase Hendrickson, MD, from Vanderbilt University Medical Center, as he discusses a recent article in The Journal of Clinical Endocrinology & Metabolism with Alyson Myers, MD, from Albert Einstein College of Medicine, and guest expert Cecilia Low Wang, MD, from University of Colorado. The article featured this month, by McDonnell et al, was published in the March 2023 issue of JCEM: "Glycemic Gap Predicts Mortality in a Large Multicenter Cohort Hospitalized With COVID-19."
Click here to log in and listen to the episode!
Meet the Speakers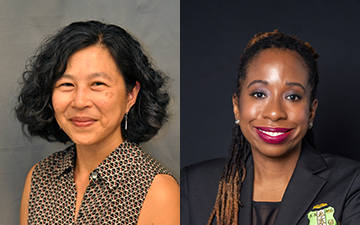 Cecilia Low Wang, MD, is an endocrinologist and professor of medicine at University of Colorado. She earned her medical degree at the University of Rochester and did her residency and chief residency in internal medicine at the University of Utah. She completed her fellowship in endocrinology, metabolism, and diabetes at the University of Colorado (CU), then did research on VA career development awards to understand cellular mechanisms of atherosclerosis. She oversees medical safety for clinical trials, adjudicates major adverse cardiovascular and limb events and bleeding end points for international multicenter trials, and is the principal investigator for diabetes trials in the inpatient setting and in rural Colorado. Dr. Low Wang currently chairs the U.S. Food and Drug Administration's Endocrinologic and Metabolic Drugs Advisory Committee. She directs the glucose management team at the University of Colorado Hospital and teaches medical students, house staff, fellows, and peers in a number of settings. She is a member of the CU Anschutz Academy of Medical Educators and is the founding program director for the Diabetes Fellowship Program at CU. Prior to that role, she served as associate director of the CU Endocrinology Fellowship Program for 10 years. She has been active in the Endocrine Society over the past 20 years and has served on a number of committees, planned and spoken in trainee programs, reviewed abstracts and awards, and moderated annual meeting sessions. Currently she serves on the Nominating Committee. She is a past chair of the Diabetes Disease State Network for the American Association of Clinical Endocrinology, serves as vice chair of the annual meeting, and is a member of the 2023 Update of the Type 2 Diabetes Comprehensive Algorithm. She is as a member of the Lifestyle Diabetes Committee of the Council on Lifestyle and Cardiometabolic Health for the American Heart Association. She is passionate about improving the lives of people affected by diabetes and has devoted her career to this goal.
Alyson Myers, MD, is an associate professor and the Associate Chair for Diversity, Equity, and Inclusion for the Department of Medicine at Montefiore Medical Center at Albert Einstein College of Medicine in Bronx, N.Y. She also is an adjunct associate professor at the Zucker School of Medicine at Hofstra/Northwell, where she also served as the medical director of inpatient diabetes for North Shore University Hospital from 2013–2021. Dr. Myers attended the University of Virginia, where she majored in French and minored in chemistry. After college, she returned home to Queens, N.Y., to teach junior high school math and science. A year later, she attended SUNY Downstate Health Sciences University, where she was the four-year recipient of the President's Award Scholarship. She completed a five-year combined internal medicine/psychiatry residency at Rush University Medical Center in Chicago. During her fourth year, she was selected as chief resident. After residency, she completed an endocrinology fellowship at University of Texas Southwestern Medical Center. During fellowship she received a T32 training grant in mood disorders and diabetes under the mentorship of Madhukar Trivedi, MD. In late 2015, Dr. Myers was accepted as an Empire Clinical Research Investigators Program (ECRIP) fellow. As an ECRIP fellow, she conducted a feasibility study exploring the use of telehealth for lifestyle modification and improved glycemic control in Black and Hispanic patients with uncontrolled type 2 diabetes. In 2022, she was co-awarded a Center for Diabetes Translational Research Grant to further examine and improve the health outcomes of persons with diabetic foot ulcers. Her goal is to lower the high rate of amputations of Black and Brown persons with diabetes in the Bronx by using multidisciplinary care and limb salvage techniques. Dr. Myers has several publications on the topics of diabetes disparities and diabetes technology and has been a long-time reviewer for several journals, including Journal of Immigrant and Minority Health, Journal of Diabetes Science and Technology, and Diabetes Care. She is editor of an upcoming book with Springer Publishers on the topic of diabetes and COVID-19. Also, she is an active member of the Endocrine Society as an abstract reviewer, member of the publications committee, and a presenter for the 2022 ExCEL Program. Dr. Myers also serves on the American Board of Endocrinology, Diabetes and Metabolism. She has received numerous awards and accolades, including being recognized on Doctor's Day for community service by Northwell Health in 2021. In her spare time, Dr. Myers enjoys volunteering in her community, travelling, watching movies, and going to the gym.