Join host Chase Hendrickson, MD, from Vanderbilt University Medical Center, in a discussion about a recent article in The Journal of Clinical Endocrinology & Metabolism with Amal Shibli-Rahhal, MD, from the University of Iowa and guest expert Jad Sfeir, MD, from the Mayo Clinic. The article featured this month, by Jaiswal et al, was first published online in JCEM in July: "Hemoglobin Levels Improve Fracture Risk Prediction in Addition to FRAX Clinical Risk Factors and Bone Mineral Density."
Click here to log in and listen to the episode!
Meet the Speakers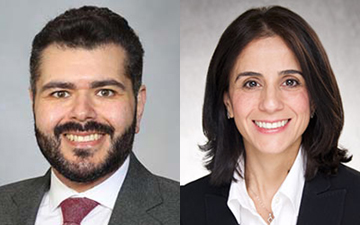 Jad G. Sfeir, MD, MS, is an assistant professor of medicine at the Mayo Clinic in Rochester, Minn., where he holds a dual appointment in the Division of Endocrinology, Diabetes, Metabolism, and Nutrition and the Section of Geriatric Medicine and Gerontology. Dr. Sfeir was the inaugural Kogod Scholar at the Robert and Arlene Kogod Center on Aging, where he continues to study biomarkers of cellular senescence in the musculoskeletal system as well as skeletal senescence in type 2 diabetes. His clinical interests include skeletal health in diabetes, diagnosis, and management of osteosarcopenia, as well as secondary fracture prevention. Dr. Sfeir earned both his BS and MD degrees from the American University of Beirut. He completed residency training in internal medicine at the Lankenau Medical Center in Wynnewood, Pa., and fellowship training in endocrinology and later in geriatric medicine at Mayo Clinic in Rochester. Dr. Sfeir has received many awards and honors, including the 2022 AIMM-ASBMR John Haddad Young Investigator Award and the 2022 AACE Rising Star in Endocrinology Award.
Amal Shibli-Rahhal, MD, MSc, MME, received her medical degree from the American University of Beirut and completed her post-graduate training in internal medicine and endocrinology at the University of Iowa. Dr. Shibli-Rahhal is professor and endocrinologist at the University of Iowa, where she also acts as the Associate Dean for Student Affairs and Curriculum at the University of Iowa Carver College of Medicine. Previously, Dr. Shibli-Rahhal acted as Endocrinology Fellowship Program Director, preclinical Course Director for the College of Medicine, and Associate Chief of Staff for Education at the Iowa City VA. In addition to her role as program director, Dr. Shibli-Rahhal also created and serves as Director of the University of Iowa Metabolic Bone Clinic.