Join host Chase Hendrickson, MD, from Vanderbilt University Medical Center, in a discussion about a recent article in The Journal of Clinical Endocrinology & Metabolism with Andrew Crawford, MD, from Dartmouth Geisel School of Medicine and guest expert Lindsay Bischoff, MD, a colleague from Vanderbilt. The article featured this month, by Chaves et al, was published in the October 2023 issue of JCEM: "Delay in Surgery and Papillary Thyroid Cancer Survival in the United States: A SEER-Medicare Analysis."
Click here to log in and listen to the episode!
Meet the Speakers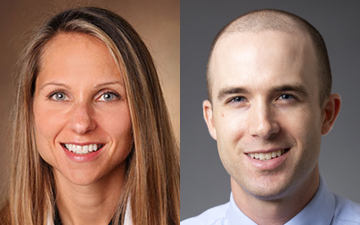 Lindsay Bischoff, MD, is an associate professor of medicine in the Division of Endocrinology at Vanderbilt University Medical Center, where she is the medical director of the Vanderbilt Thyroid Center and the program director for the Endocrine Fellowship. Her clinical practice focuses on diagnosis and treatment of thyroid cancer. Dr. Bischoff is an active member of the American Thyroid Association (ATA) and the International Thyroid Oncology Group (ITOG), having chaired committees for both, and she is on the board of directors for ITOG. She is currently on the ATA's Differentiated Thyroid Carcinoma Guidelines committee and is vice-chair for the Guidelines on Thyroid Carcinoma of the National Comprehensive Cancer Network. She serves on the editorial boards of Clinical Thyroidology and JCEM Case Reports.
Andrew Crawford, MD, is an assistant professor medicine at the Geisel School of Medicine at Dartmouth College. He attended Brown University, where he obtained an ScB in biology and his MD. He completed internal medicine residency and endocrinology, diabetes, and metabolism fellowship training at the Hospital of the University of Pennsylvania. Dr. Crawford is also the program director of the fellowship program in the endocrinology section at Dartmouth Hitchcock Medical Center in Lebanon, N.H. His clinical focus is on the evaluation and management of thyroid nodules and cancer.