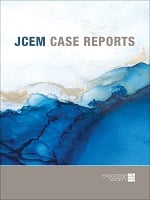 Launching late 2022. A new Endocrine Society open access journal: JCEM Case Reports, publishing reports on clinical cases and clinical problem solving from across the field of endocrinology.
JCEM Case Reports will be peer reviewed, online-only, open access, with editorial independence while at the same time advancing a coordinated publishing strategy with the Society's other journals to benefit the Society's publishing program and broader mission.
For more information, see https://academic.oup.com/endocrinesociety/pages/jcemcr.