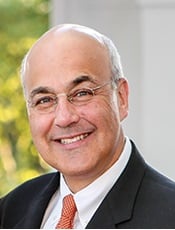 By Robert Lash, MD, Chief Medical Officer
Obesity is an increasingly common global disease that is taking a significant toll on public health. The trends are concerning. Obesity prevalence among U.S. adults jumped from 30.5 percent in 2000 to roughly 42.5 percent in the 2017-2018 timeframe. And today, roughly 20 percent of U.S. children have obesity. Worldwide obesity has nearly tripled since 1975, according to the World Health Organization.
In addition to the societal factors contributing to this trend, we're proud that endocrinologists have long been at the forefront of diagnosing obesity causes and prescribing obesity treatments. In today's edition of Endocrine Signals, we're taking an even closer look at the issue of obesity through initiatives that aim to address clinical, research, and advocacy needs.
I'd like to share some recent and ongoing work that we're doing to reduce the prevalence of obesity. This year we will:
Lead efforts to educate Congress on obesity as a disease, including through the dissemination of our recently updated "Obesity Playbook," which gives lawmakers key information on obesity at their fingertips;
Hold educational briefings for policymakers and media on the causes and consequences of obesity, along with information on emerging treatment options;
Advocate for Medicare coverage of anti-obesity medications, including through passage of the Treat and Reduce Obesity Act;
Participate in multiple coalitions focused on obesity prevention, treatment, and research, including during Obesity Care Week 2023 (Feb. 27-March 3); and
Urge increased NIH funding for obesity research.
Already in 2023, we're seeing some of these efforts pay off.
Our Feb. 7, 2023, media briefing on new anti-obesity medications attracted more than a dozen science and health journalists from some of the country's top-tier media outlets, including The New York Times, the Associated Press, USA Today, STAT News, and Wired.
As the event's moderator, I was proud of the work of our Society volunteer experts who clearly answered the reporters' tough questions and made some excellent points along the way.
Ro Pereira, MD, of the Denver Health Medical Center and the University of Colorado in Denver, Colo., pointed out two major misconceptions about obesity.
First is that it is a cosmetic condition rather than a disease, she said. "Obesity, just like diabetes and hypertension is a disease with serious consequences for health," Pereira told the reporters, explaining that obesity increases a person's risk for diseases such as diabetes, hypertension, heart disease, arthritis, and cancer.
The second major misconception is that individuals can prevent or cure obesity through diet and exercise alone. "This is just not true," Pereira stated. "Obesity is what we call a multifactorial disease…meaning there are multiple factors that cause it. These include genetics, environment, or social networks or access to healthy foods."
Amy Rothberg, MD, with the University of Michigan in Ann Arbor, Mich., noted that the American Medical Association officially recognized obesity as a disease nearly a decade ago. But today, she says, "many people view obesity as a lifestyle choice, or perhaps even a personal flaw, rather than a health condition that really requires effective evidence-based interventions."
Overcoming this stigma is crucial to effective treatment.
"We've looked upon someone living with cancer as having a lot of courage," Rothberg said. "We don't afford that same dignity to people living with obesity…it really puts in peril those people living with obesity and unnecessarily stigmatizes them, and so they are not accessing health care as they should."
Michael Weintraub, MD, with New York University (NYU) Langone Health and NYU Grossman School of Medicine in New York City, explained that only one-third of individuals with obesity can achieve and maintain a weight loss of more than 5 percent through behavioral therapy, and changes in diet and exercise.
"It's incredibly difficult to achieve and maintain weight loss with lifestyle changes alone," Weintraub said, adding that evolution is designed to defend a certain fat mass or body weight setpoint.
"When we lose weight, our body doesn't know we lost that weight intentionally," he says. "Our body physiology actually pushes back to regain that weight through various mechanisms such as increasing appetite and decreasing energy expenditure."
But lifestyle changes paired with anti-obesity medications can allow individuals to maintain weight loss by suppressing our own body's compensatory mechanisms, Weintraub noted. One recent study found that patients who took anti-obesity medications and adjusted their lifestyle were able to lose 10.4 percent of their body weight — roughly 23 pounds — and maintain that weight loss for 4.7 years.
Ongoing Efforts Around Obesity
As I mentioned above, I'm proud of the work that our colleagues are doing to reduce obesity prevalence. You will hear more about obesity in the coming months, including at ENDO 2023, June 15-18 in Chicago, where obesity again will be the focus of many sessions.
You can find the latest obesity-related Scientific Statements, Clinical Practice Guidelines, advocacy campaigns, video interviews, webinars, and more at our Focus on Obesity page.