The term lipids refer to any group of fats in the blood, including triglycerides and cholesterol. Triglycerides are an important source of energy, and cholesterol is used to make vitamin D and some hormones.
Cholesterol is a waxy, fat-like substance that is found in all cells in the body. Cholesterol is also found in foods from animal sources. The body requires only a small amount of lipids to function. If triglyceride levels are too high, the risk for pancreatitis (inflammation of the pancreas) is increased. When cholesterol levels are too high, fat is deposited in the artery walls. This can lead to heart disease and stroke.
Endocrine Connection
Endocrine conditions such as diabetes or hypothyroidism can lead to changes in lipid levels. Hormones control every pathway for fats and proteins and are transported to support metabolism. The primary hormones involved in this process are estrogen, testosterone, insulin, cortisol, thyroid hormone, growth hormone, and glucagon.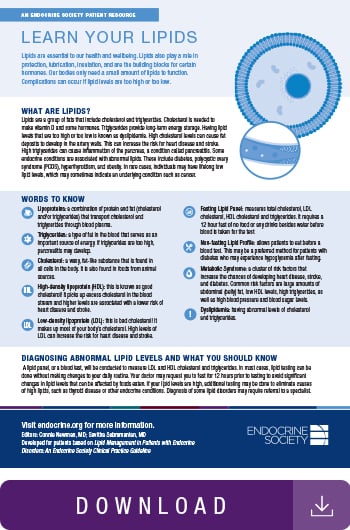 Developed for Patients Based on Lipid Management in Patients with Endocrine Disorders: An Endocrine Society Clinical Practice Guideline.