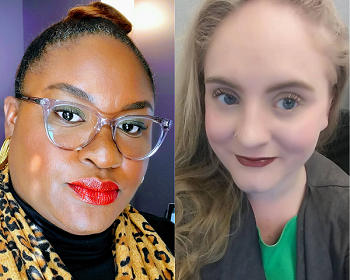 By Courtney Neal, Associate Director of Membership; and Claudia Barrett, Specialist of Member Engagement & Recognition
Networking can be challenging in the best of times. But making meaningful professional connections during an ongoing pandemic can be downright daunting. Fortunately, we offer several excellent online forums where members can not only meet colleagues with similar interests, but also contribute their voices and raise their profiles on some of the hottest endocrine topics of the day.
Our virtual networking hubs consist of the Community Connect open forum and four inaugural Special Interest Groups (SIGs):
Adrenal/Pituitary
Transgender Research and Medicine
Early Career
Entrepreneurship
Together, these communities allow members worldwide to share their knowledge, talk with peers, ask questions of experts, attend learning events, and forge deep and lasting professional relationships…the very essence of networking!
We're happy to report this year is off to another great start with these groups.
Our SIGs already have hosted several well-attended learning and networking events. And our Community Connect forum, which is open 24/7, continues to gain prominence as the premiere place to go for professionals to discuss the full range of endocrine-related issues.
Below are some examples of the exciting networking programs we've already executed this year and are planning for later in 2021. Further down, we share some helpful advice from workforce gurus on how to make the most of your remote networking experiences.
So plug into these platforms and watch your career trajectory rise — whether you're new to the field or a long-time veteran.
Special Interest Groups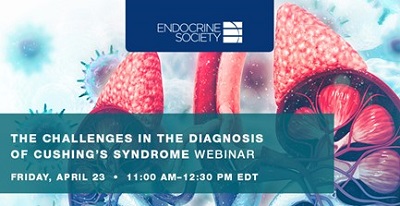 Adrenal Pituitary SIG:
Held a webinar in January titled "Pituitary Microenvironment: The Science and the Clinical Implications." Speakers were Marta Korbonits, MD, PhD; Gerald Raverot, MD, PhD; Lauren Fishbein, MD, PhD; and Roberto Salvatori, MD.
Held a networking session at ENDO 2021 where attendees gathered in virtual breakout rooms to engage in discussions on how best to adapt professionally during the pandemic. An overview of the discussions will be published in the InTouch section of Endocrine News this spring.
Will hold a webinar April 23 on the challenges of diagnosing Cushing's Syndrome. The event will be moderated by Niki Karavitaki, PhD, FRCP; and Ismat Shafiq, MD; and feature speakers John Newell Price, PhD, FRCP; and Roberto Salvatori, MD.
Future events include an episode in the Endocrine Feedback Loop podcast, as well as subject critiques for the Endocrine Reading Room, Clinical Fellows Case Presentations, networking events, and more educational webinars.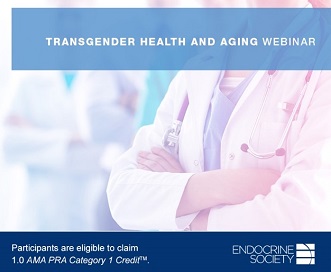 Transgender Research and Medicine SIG:
Held a webinar in March on "Transgender Health and Aging." Speakers were Amy Diesburg- Stanwood, DNP, FNP-BC; Sean Iwamoto, MD; and Karyne Vinales, MD; with Micol Rothman, MD, moderating. Members can watch the event and receive CME credit on our Center for Learning.
Held an open-ended networking event at ENDO 2021 that allowed for small group discussions on a wide range of common experiences in this professional sector.
Future events include an upcoming webinar on Sexual Orientation and Gender Identity Data Collection for Medical Purposes. The SIG also will be featured in our Endocrine Feedback Loop podcast and Endocrine News.
Early Career SIG
Held an ENDO 2021 event on "Mastering the Elevator Pitch." Presenter Ray Blind, PhD, a professor and researcher at Vanderbilt University School of Medicine, provided sound advice on the art of describing your work and professional background in a few short sentences. Attendees broke into small groups to practice their sample elevator pitch.
Future events include professional development and education webinars on topics such as implicit bias, finding a mentor when you are no longer a fellow, and transitioning careers.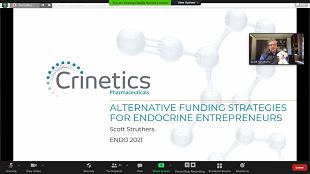 Entrepreneurship SIG
Held an ENDO 2021 educational event on "Alternative Funding Strategies for Endocrine Entrepreneurs." The event hosted by Scott Struthers, PhD, founder and CEO of Crinetics Pharmaceuticals, provided funding insights to prospective and established entrepreneurs based on his first-hand entrepreneurial experiences.
Future events include a grant writing workshop, an Endocrine News podcast feature, and multiple entrepreneurship training webinars.
All of these events, along with 2020 SIG content, are available as recordings on the Community Connect platform.
Community Connect
Speaking of which, once you've attended a SIG event, members are invited to transition to the Community Connect forum, where they can carry on the dialogue and learning at any time of day or night. Community Connect is one of the best places to engage with subject matter experts, interact with peers, share research findings, and discuss interesting articles and topics.
Recent discussion threads include:
Health disparities and the Latinx population;
Arkansas' transgender legislation;
Bouncing back from COVID-19 challenges; and
Physicians in the pharmaceutical industry: their roles, motivations and perspectives.
As you can see, we don't shy away from controversial topics. Community Connect is a safe place to share ideas and opinions on all sorts of related topics, while adhering to our respectful engagement guidelines. Many Community Connect users pose questions to other subject experts, share their professional experiences, and provide programming recommendations for the SIGs.
Click here to watch the informational video to learn more about using Community Connect.
How to Successfully Network Virtually
So, we build it. You come. And then what? How do you make the most of your remote networking opportunities? Fortunately, the world is filled with workplace experts who have put a lot of thought into that very question. Here are some of their tips.
Dawn Graham, a psychologist and career coach, acknowledges that Zoom conferences lack the engagement and energy that comes with traveling to a different place and meeting people face to face. But in a recent FORBES article she says that instead of resisting the future, we should embrace it. The virtual world is likely here to stay. Her advice includes:
Learn to fully use the tools. With the recent boom in virtual engagement, many platforms are adding new features regularly to provide an enhanced experience, Graham notes.
Invest in your environment to present a good impression. This might include buying a professional USB laptop camera with adjustable lighting, or a basic selfie-ring to add brightness. Graham also suggests that an ironed, plain sheet can create a simple, clutter-free background. She cautions about using virtual backgrounds, which can make you appear as a bodyless entity.
Attend fully the event and avoid the temptation to multitask. Participants should show they care by paying exquisite attention to the presenters. To achieve this, she suggests turning off notifications or powering down any devices that tempt you to stray.
Prepare in advance. Look at the agenda and begin thinking about the topics that will be discussed. Plan to contribute in the chat and breakout rooms or through polls and have some questions ready for presenters or panelists.
Participate in networking coffee breaks and breakout sessions where participants can mingle casually between sessions.
Follow-up. Connect on LinkedIn by sending a personalized note within 24 hours asking the person to join your network. Include the name of the conference or webinar where you were introduced so they recognize the shared commonality.
Set up a 1-1 meeting. Select a few people who you would like to meet with individually to learn more and continue the discussion.
Consider a small discussion group. Ask if any other participants are interested in a post-session meet-up to continue brainstorming or sharing ideas. Grahams says this is a good way to meet others on a more intimate basis and continue to develop your relationship.
Todd Pittman, CEO of business management consultancy Anexinet, believes that virtual networking can sometimes foster strong ties, even more quickly than face-to-face interactions. He writes in The Enterprises Project that networking virtually still requires some basic principles. His key advice includes:
Understand that networking is not synonymous with selling. Ask what you bring to the relationship. If you reach out only when you need help, others will withdraw, Pittman notes.
Make connections before your next career move. Don't make the mistake of finding yourself in the market for a job and realizing you've neglected your network, he advises.
If you are job hunting, don't come out and ask your contacts for a job — instead, ask them who you can connect with.
In a virtual conference, gather information on the speakers and panelists. Consider emailing these individuals after the event to ask questions or offer feedback. Ask if they would be willing to speak with you briefly to brainstorm on individuals and companies you are targeting.
Shelcy V. Joseph, founder of the millennial career website A Millennial's Guide to Life, describes in a FORBES article four ways that a person can get the most out of attending virtual events:
Leverage Google or LinkedIn for research: Soon after registering for an event, go back to the agenda and write down the names of the speakers you're interested in talking to, she says. Look them up online to find common ground or learn what they've been up to.
Have something to say: You can easily get someone's attention by preparing thoughtful questions that make that person think or feel something, Joseph notes.
Be clear on what you want the outcome to be: Have a specific goal for what you want out of interacting with speakers. This could include asking them a question, arranging a one-on-one Zoom call, seeking a mentor, or inquiring about job leads or industry connections.
Follow-up and/or stay in touch: If you don't hear back from someone after more than a week, feel free to politely follow-up as they might have missed your email the first time.
At the Endocrine Society, networking is a huge part of our mission to support our 18,000-plus members. We invite you to interact and network with fellow members on our virtual platforms — and hopefully soon at our in-person events. Feel free to reach out to us with any questions you may have to enhance your membership experience. Contact us at [email protected].