People with high blood calcium, also called hypercalcemia, have above-normal levels of calcium in their blood. The most common cause of high blood calcium is a condition called primary hyperparathyroidism, or PHPT. In this condition, one or more of the parathyroid glands produces too much parathyroid hormone. This, in turn, causes the bones to release too much calcium into the blood. Women over the age of 50 are more likely than others to have PHPT.
Hormone problems are some of the many possible causes of high blood calcium. Certain types of cancer can also cause high blood calcium. This usually occurs late in the course of the cancer and is referred to as hypercalcemia of malignancy (HCM). HCM is estimated to affect between 2% to 30% of patients with cancer, rates that vary depending on cancer type and disease stage. In patients with HCM, you will see an increased blood calcium level, but it is a result of the cancer, which can produce a hormone that is similar to what is produced from the parathyroid gland called parathyroid-related peptide (PTHrp) or other hormones described below.
HCM causes can split into different categories, including:
Humoral hypercalcemia of malignancy (HHM) is caused by too much parathyroid hormone-related peptide (PTHrP) from malignant tumors.
Local osteolytic hypercalcemia (LOH) is caused by decreased mobility or cancer that attacks the bone, which will cause high blood calcium levels.
Hypercalcemia due to multiple myeloma happens through a combination of different factors, including LOH from tumors in the bone, along with injury to the kidneys that prevents them from urinating out the excess calcium.
Calcitriol-mediated hypercalcemia, also called Vitamin D 1,25-mediated hypercalcemia, is caused by the increased conversion of inactive vitamin D to the active form of vitamin D (calcitriol). This is seen in diseases such as lymphoma, sarcoidosis, and other granulomatous diseases. Too much calcitriol can lead to high blood calcium levels.
Endocrine Connection
Calcium is a mineral found mostly in your bones, where it builds and maintains bone strength. A small amount of calcium is also found in muscle and blood cells, where it plays several important roles:
Helps muscles contract,
Helps nerves and the brain work properly, and
Helps regulate (control) your heart rhythm and blood pressure.
Normally, your body controls blood calcium by adjusting the levels of several hormones. When blood calcium levels are low, your parathyroid glands (four pea-sized glands in your neck usually behind the thyroid) secrete a hormone called parathyroid hormone (PTH). PTH helps your bones release calcium into the blood. When blood calcium becomes high, PTH should fall to very low levels to try to lower it.
Vitamin D is also important in keeping calcium levels in the normal range. Vitamin D, which is actually a hormone, helps your body absorb calcium and move it from your intestines into your blood. Together, PTH and vitamin D, along with other hormones and minerals, help move calcium in or out of body tissues to keep your blood calcium at a normal level.
High blood calcium often does not cause any symptoms. But over time, some causes of high blood calcium can lead to osteoporosis (thinning of the bones), bone fractures, and kidney stones. Very high blood calcium can cause more serious problems, including kidney failure, abnormal heart rhythm, mental confusion, and even coma.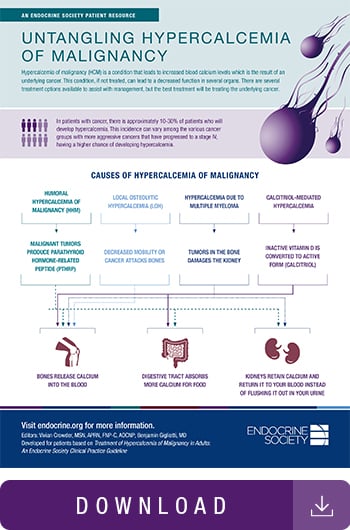 Developed For Patients Based on Treatment of Hypercalcemia of Malignancy in Adults: An Endocrine Society Clinical Practice Guideline