Endocrine Insider
---
Advocacy News
Progress on Capitol Hill: Agreement Reached on Short-term Funding Bill
Researchers, Clinicians & Patients Rally for NIH Funding
Cosmetics Hearing Reflects the Need to Regulate EDCs
Clinical News
FDA Approves Medtronic MiniMed 670G Artificial Pancreas Device
Endocrine Society Issues Clinical Practice Guideline Recommending CGMs as Gold Standard of Care for Adults with T1 Diabetes
ONC Releases Health IT Playbook
Research News
NIH Releases Final Policy on Clinical Trial Information
'Cures' Legislation Punted to Lame Duck
Endocrine Society Joins NIEHS to Celebrate 25 Years of Research on EDCs
---
Advocacy News
Progress on Capitol Hill: Agreement Reached on Short-term Funding Bill
As the clock clicked down to less than two days before the start of Fiscal Year (FY) 2017, finally Congress reached agreement on a temporary stop-gap funding bill, known as a Continuing Resolution, (CR) that will keep the government running until December 9.
For months, congressional leaders have been engaged in negotiations with the White House to complete work on the CR. However, the issue of whether or not Zika funding should flow to the Planned Parenthood affiliate in Puerto Rico locked Democrats and Republican in dispute for weeks. Most recently, an impasse occurred over whether the package should contain funding for Flint, Michigan, a city that has been struggling with a lead contamination crisis that occurred after a switchover in its water supply. Democrats insisted flood repair funding shouldn't flow without aid for Flint, but some top Republicans believed the Flint issue should be addressed in separate legislation.
The CR (H.R. 5325) funds the government at the FY 2017 top-line level of $1.067 trillion minus a 0.5 percent across-the-board that is necessary to comply with the spending cap. It includes a total of $1.1 billion in Zika funding, more than $150 million of which will be distributed to the National Institutes of Health (NIH) for research to develop a vaccine and diagnostic tests. The CR also contains $37 million to support treatment for opioid addiction and recovery and funds to repair damage from recent floods in Louisiana, West Virginia, and Maryland. Other provisions in the CR address requests submitted by the Obama Administration including money to begin preparations for the Presidential inauguration and additional resources that will allow the Transportation Security Administration to continue a staffing surge to reduce lines at airports across the country.
The Senate passed the measure on September 28; we expect that the House of Representatives will vote by early morning September 29 and both chambers hope to wrap up all legislative business before the end of the week so they can go home to campaign in advance of the elections. Once Congress returns for a "lame duck" session after the elections, we will continue to advocate for passage of a final funding bill, including an increase for NIH.
Take Action: All Endocrine Society members are strongly encouraged to participate in our online advocacy campaign to urge Congress to pass a real funding bill including an increase for the NIH. Taking action is quick and easy. Click to access the campaign, and a pre-written letter will be provided for you. You will only need to either provide your email and member ID, OR enter your address information so that the system will send your message to the correct recipients.
Researchers, Clinicians & Patients Rally for NIH Funding
To keep the NIH at the top of the policymakers' minds, the Endocrine Society joined with approximately 400 other leaders in the research community, physicians, and patients to make September 22 a National Day of Action to support NIH. Hundreds of researchers from around the country, including members of the Endocrine Society, came to Washington, DC to rally for medical research and to ask Congress to make NIH funding a priority. A strong Facebook and Twitter campaign allowed others around the country to show their support.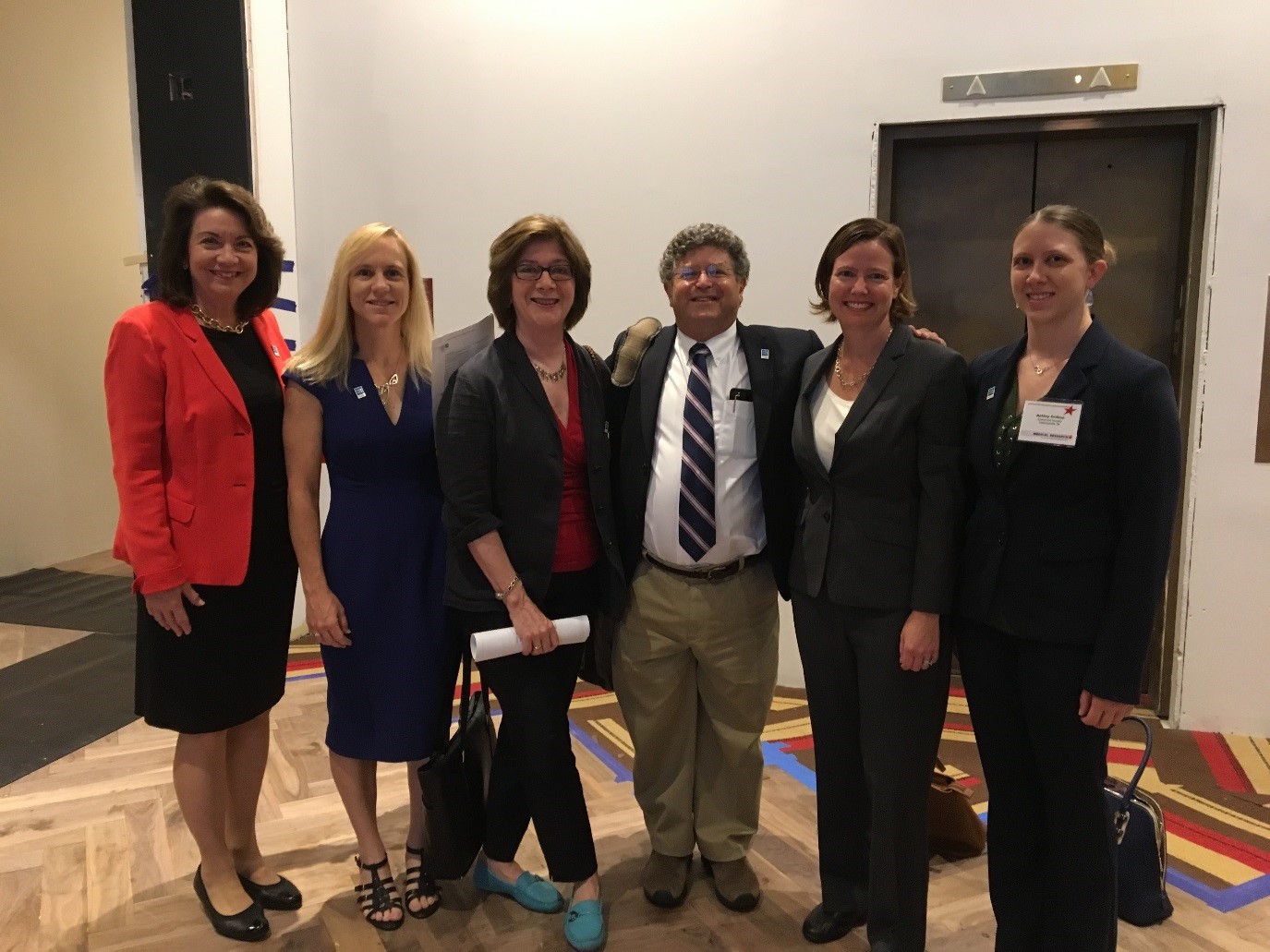 Endocrine Society members Drs. Cynthia Stuenkel, Heather Patisaul, Margaret Eckert-Norton, Daniel Oppenheim, Elizabeth Austen Lawson, and FLARE Fellow Ashley Orillion head to Capitol Hill to support NIH funding.
Cosmetics Hearing Reflects the Need to Regulate EDCs
On September 22 the U.S. Senate Committee on Health, Education, Labor & Pensions (HELP) held a full committee hearing on "Exploring Current Practices in Cosmetic Development and Safety." Discussion during the hearing reflected that consumers are exposed to EDCs in personal care products and that the US Food and Drug Administration (FDA) does not currently have the authority and resources to ensure that consumers are not harmed by exposures to EDCs in personal care products. The Endocrine Society had urged the HELP Committee to have this hearing and helped identify the key scientific issues.
A focus of the hearing was legislation known as the Personal Care Products Safety Act (S. 1014) introduced by Senators Dianne Feinstein (D-CA) and Susan Collins (R-ME). If passed, this bill would amend the Federal Food, Drug, and Cosmetic Act to allow the FDA to collect information on the ingredients of personal care products and prohibit distribution of a personal care product if an ingredient could cause serious adverse health consequences. It would also require the FDA to review the safety of at least five cosmetic ingredients each year.
The Endocrine Society supports S. 1014 because EDCs such as propyl paraben are ubiquitous due to their presence in personal care products, and we assert that the FDA needs the authority and resources to ensure the safety of cosmetics and other personal care products. Senator Feinstein recognized the Endocrine Society during her testimony, and noted that S. 1014 calls for a review of three specific EDCs with links to reproductive issues, immune system problems, and some cancers.
Clinical News
FDA Approves Medtronic MiniMed 670G Artificial Pancreas Device
On September 28, the U.S. Food and Drug Administration (FDA) approved Medtronic's MiniMed 670G hybrid closed looped system, the first FDA-approved device to automatically monitor glucose and provide appropriate basal insulin doses in people 14 years of age and older with type 1 diabetes. The MiniMed 670G is often referred to as an "artificial pancreas" which can adjust insulin levels with little or no input from the user. It works by measuring glucose levels every five minutes and automatically administering or withholding insulin. The system includes a sensor that attaches to the body to measure glucose levels under the skin, an insulin pump strapped to the body, and an infusion patch connected to the pump with a catheter that delivers insulin. While the device automatically adjusts insulin levels, users need to manually request insulin doses to counter carbohydrate consumption. The Society is pleased with FDA's decision to approve the Minimed 670G and will continue to work to ensure patients have access to and coverage for lifesaving diabetes medications and technologies.
Endocrine Society Issues Clinical Practice Guideline Recommending CGMs as Gold Standard of Care for Adults with T1 Diabetes
On September 26 the Endocrine Society issued a Clinical Practice Guideline recommending continuous glucose monitors (CGMs) as the gold standard of care for adults with type 1 diabetes (T1D). The guideline, which is called "Diabetes Technology – Continuous Subcutaneous Insulin Infusion Therapy and Continuous Glucose Monitoring in Adults: An Endocrine Society Clinical Practice Guideline," was published online and will appear in print in the November 2016 issue of the Journal of Clinical Endocrinology & Metabolism.
ONC Releases Health IT Playbook
The number of physician's offices and hospitals with electronic health records (EHR) systems continues to increase, but many clinicians do not have the time or expertise to use these systems to their fullest potential. To help physicians who struggle with understanding how to get their EHR to operate efficiently and effectively, the Office of the National Coordinator for Health Information Technology released the first edition of the Health IT Playbook. The playbook provides guidance on issues such as selecting an EHR system, redesigning workflows to optimize practice efficiency and effectiveness, sharing information with other providers, engaging patients and families, and improving patient outcomes.
This resource is accessible through the Endocrine Society's new Medicare Access and CHIP Reauthorization Act webpage dedicated to the helping physicians understand the new system. Tools from the Centers for Medicare & Medicaid Services (CMS), the American Medical Association, American College of Physicians, as well as a recording of the MACRA overview offered at this year's Clinical Endocrinology Update are all available in one place. New resources are being added often, so you are encouraged to check back. If there are specific resources that you would like to see included, please contact Stephanie Kutler, Director of Quality Improvement at skutler@endocrine.org.
Research News
NIH Releases Final Policy on Clinical Trial Information
On September 16 the National Institutes of Health (NIH) issued a policy on the Dissemination of NIH-Funded Clinical Trial Information. The policy sets the expectation that "all investigators conducting clinical trials funded in whole or in part by the NIH will ensure that these trials are registered at ClinicalTrials.gov, and that results information of these trials is submitted to ClinicalTrials.gov." Investigators and institutions that fail to comply with the new rule may face strict enforcement actions, including loss of funds or grant termination.
In 2015, the Endocrine Society submitted comments on the Notice of Proposed Rulemaking for the new policy, expressing support for the goal of ensuring that the results of clinical trials should be made more transparent and accessible for researchers and the public. However, we asked that the NIH more carefully delineate processes to defer submission of results for investigators with manuscripts under review, and also revise the definition of the end of the study so that trials with significant analysis following the last clinical intervention have sufficient time to analyze the results of the study.
We will carefully review the new policy and subsequent guidance to ensure that implementation of the policy facilitates research transparency without imposing onerous burdens on clinical researchers. For more information, please see the NIH resources at:
'Cures' Legislation Punted to Lame Duck
As Congress races to conclude its business and recess until after the November elections, the main House sponsor of a package of biomedical innovation bills reported that movement on the legislation would be postponed until after the November elections.
The package, known as 21st Century Cures (H.R. 6), passed the House last year but has stalled in the Senate over disagreements on mandatory funding for the National Institutes of Health.
House Energy and Commerce Chairman Fred Upton (R-MI) hoped to reintroduce the legislation and pass it out of his chamber before Congress left for the October recess, but disagreements with Democrats over ways to pay for the legislation prevented that from happening.
The Senate version of the legislation, which is being driven by Senator Lamar Alexander (R-TN), chairman of the Health, Education, Labor, and Pensions Committee, is a much slimmer package and eliminates several controversial measures.
The version the House passed, for example, included a provision that would give brand-name drug manufacturers an additional six months of exclusivity if they obtain approval for additional uses of already approved treatments for rare diseases. That measure was not included in any of the bills intended for the Senate counterpart package that passed out of the HELP committee earlier this year.
The Endocrine Society submitted comments on the legislation in both the House and the Senate. We will continue to keep members apprised of its progress.
Endocrine Society Joins NIEHS to Celebrate 25 Years of Research on EDCs
Society Partners with NIEHS on Congressional Briefing
On September 21 the Endocrine Society collaborated with the National Institute of Environmental Health Sciences (NIEHS) on an educational briefing entitled "From Hormones to Brain Development: 25 Years of Groundbreaking Research on Endocrine Disrupting Chemicals." Speakers included Dr. Linda Birnbaum, Director of the NIEHS, as well as Endocrine Society members Drs. John McLachlan, Tracey Woodruff, and Andrea Gore. The briefing was designed to educate Members of Congress and their staff about the tremendous progress made in EDC research over the past 25 years and how new discoveries have helped us understand how exposures to EDCs contribute to critical health problems such as changes in brain development and reproductive health complications.
During the briefing, Dr. Birnbaum gave an overview of NIEHS research on EDCs. Dr. McLachlan then described the history of the field and several major milestones. Dr. Woodruff and Dr. Gore discussed how their research has helped us understand the links between EDC exposure and health problems. Congressional staff learned how they could find more information about EDC research, and how EDC research was linked to recent legislative developments.
NIH Meeting Focuses on Research Achievements and Gaps
As part of the 50th anniversary celebration of the founding of the National Institute of Environmental Health Sciences (NIEHS), and recognizing the 25th anniversary of the Wingspread Conference on Endocrine Disruption, on September 18 through September 20, the NIEHS sponsored a public meeting on "25 Years of Endocrine Disruption Research: Past Lessons and Future Directions." In addition to presentations focused on research and regulatory issues, the meeting celebrated the people who contributed to major scientific breakthroughs and established the field of endocrine-disrupting chemicals over the past 25 years. Included in the program were sessions on:
The history of endocrine disruption
Scientific principles underlying EDCs
The mechanisms and health effects of EDCs
EDC testing and biomonitoring
Lessons learned from EDC research
Effects across species and generations
Translating science to action
Safer chemicals and better research strategies
The next 25 years: a discussion on a safer future
Many Endocrine Society members participated in the meeting as invited speakers, panelists, and session chairs. We appreciate that NIEHS recognized the excellent science done by EDC researchers, and the impact that this research has had on policy and regulatory decision making.