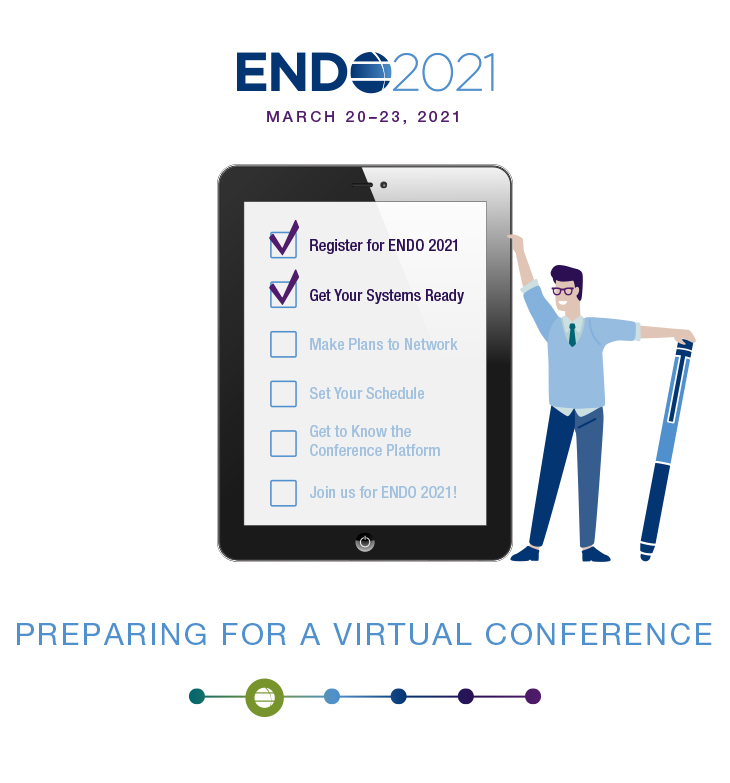 Great news! The conference platform for ENDO 2021 is now open to meeting registrants. Simply visit endocrine.org/endoplatform and log in using your email address and the badge number you received when you completed your registration. For additional support accessing the platform, please contact our Member Services team at [email protected].
Get Your Systems Ready
As you prepare for ENDO 2021, it is important to make sure you update your devices and internet browser to guarantee the best virtual experience possible. Below is a quick checklist of items to complete before ENDO to ensure your systems are ready to go!
We recommend using a desktop or laptop computer for optimal results, but you can also access the platform by tablet or phone. Regardless of the device you use, make sure your operating system is updated the most recent version.
If you are using a desktop or laptop, ensure the web browser you will be using is also updated to the most recent version. The platform is optimized for Google Chrome, but Firefox and Microsoft Edge will also work.
Once you have updated device operating system and browser, ensure your system is compatible with our virtual environment by conducting a Technical Check. PLEASE NOTE: This check will be available on the conference platform when it opens on March 16. If you see green checkmarks next to each item in the list, you are good to go!
Please also download the Zoom Client for Meetings to ensure you are able to connect to each session.
---
Make Plans to Network
One of the best parts about attending ENDO is the opportunity to reconnect with old colleagues and make new connections. Although we are meeting virtually this year, there are still numerous ways for you to network during the event.
Mid-Day Mindfulness
Throughout the day, you have opportunities for guided meditation and mindfulness exercises that will ensure you are relaxed and recharged for the rest of your day.
Virtual Photobooth
Commemorate ENDO 2021 by having your picture taking for our photo mosaic which will proudly display the reach of our meeting around the world.
Dedicated Zoom Rooms
Our Zoom networking rooms will provide you with a simple, dedicated place to make new contacts and catch up with old friends on your time.
Attendee Profiles
Complete your attendee profile and view the profiles of other attendees to learn exchange contact information and make new connections.
Refer a Friend
Invite a friend to join us using our Invite a Colleague feature in the Registration Resource Center.
---
Set Your Schedule
Our live schedule for ENDO 2021 is officially set! Before the meeting starts, be sure to review the lineup and begin adding the sessions you want to attend to your calendar.
ENDO 2021 will kick off on Wednesday, March 17 with a special session, The Endocrine System in the COVID Pandemic. Join our president, Gary D. Hammer, MD, PhD, and European Society of Endocrinology President, Andrea Giustina, MD, as they lead a discussion on new findings regarding the COVID-19 pandemic and its impact on the endocrine system.
We are also offering 10 ancillary symposia during the mornings and evenings each day throughout the meeting. Topics include osteoporosis, hypophosphatemia, innovations in diabetes technology, new weight loss therapies, the role of genetics in obesity, and more.
Our Special Interest Groups will also engage in discussions throughout the meeting about new developments specific to their areas of endocrinology. If you have an interest in Adrenal and Pituitary, Transgender Research and Medicine, Entrepreneurship, or Early Career development be sure to check these out!
You will also want to make sure you visit the virtual exhibit hall each day to view product theaters and investigate the latest products and medications coming to the market.
---
Platform Walkthrough
A walkthrough of our ENDO 2021 virtual platform is now available to help you get to know our event space before the meeting begins. This brief video will cover everything you need to know to make the most of your ENDO experience, including how to access the platform, navigating between different sessions, accessing our ENDOExpo and product theaters, and how to take advantage of our networking opportunities.
---
If you have any questions please contact our Member Services team at [email protected] for assistance. We are excited to connect with you soon!