ENDO is the premier global gathering in endocrinology. Become an exhibitor and join thousands of leading experts, researchers, and the most respected clinicians in the filed as they converge to share the latest findings in hormone science and new breakthroughs in clinical care. Learn more about how you can get involved:
Connect With Your Target Audience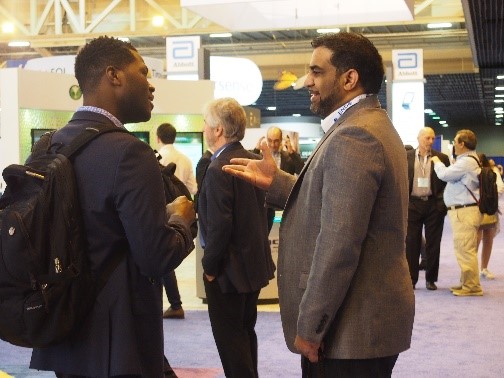 Known for its diverse and comprehensive program, ENDO truly represents all areas of endocrinology and our attendees are critical to the acceleration of medical discovery and new therapies. From pervasive health issues like diabetes and obesity, to rare and specialized areas of concentration, attendees come to ENDO for the full spectrum of content to learn how the latest findings and breakthroughs can influence, support, or change their work.
Our community is made up of more than 18,000 members from 120 countries. Our members include clinicians, investigators, scientists, other healthcare providers, and educators, and cover the spectrum of career stages from students to emeritus professors.
ENDO By the Numbers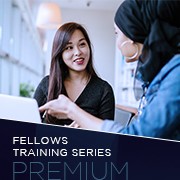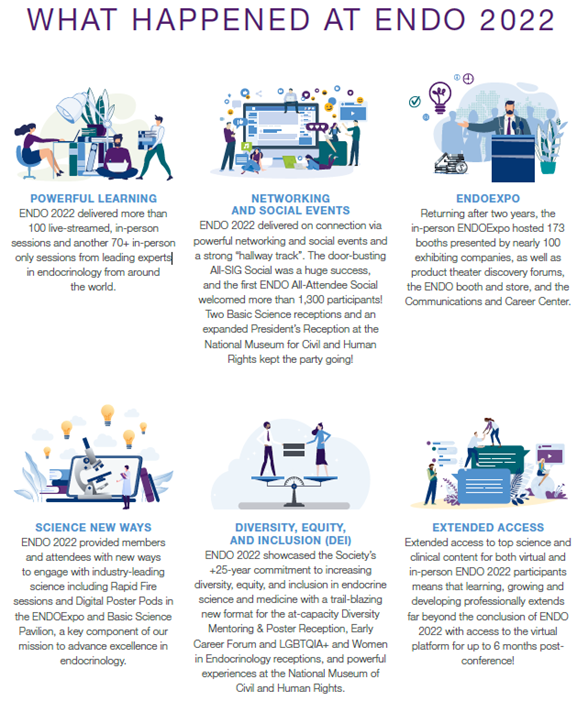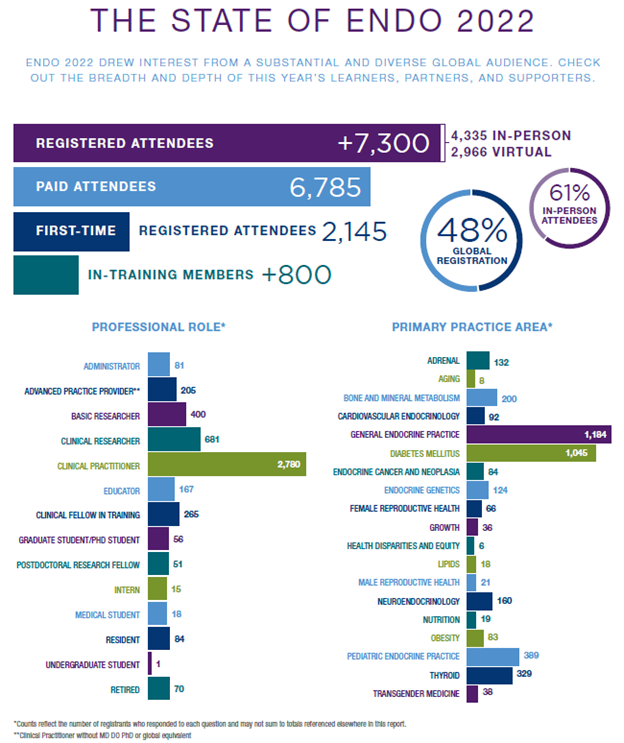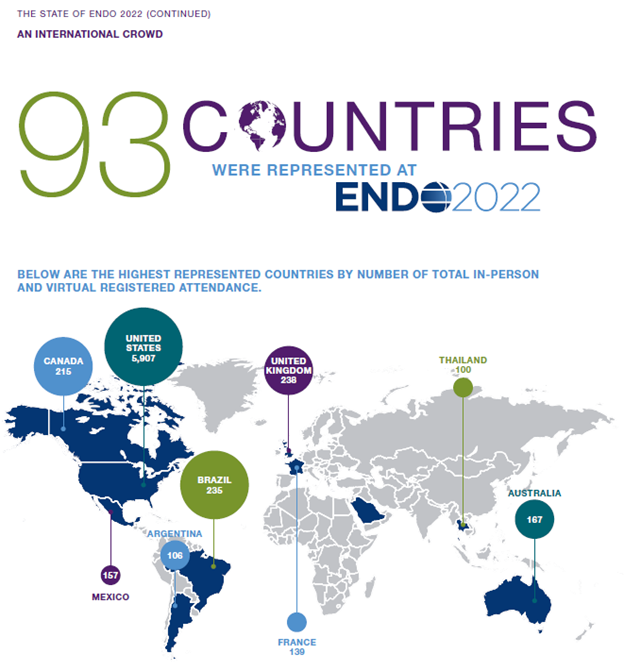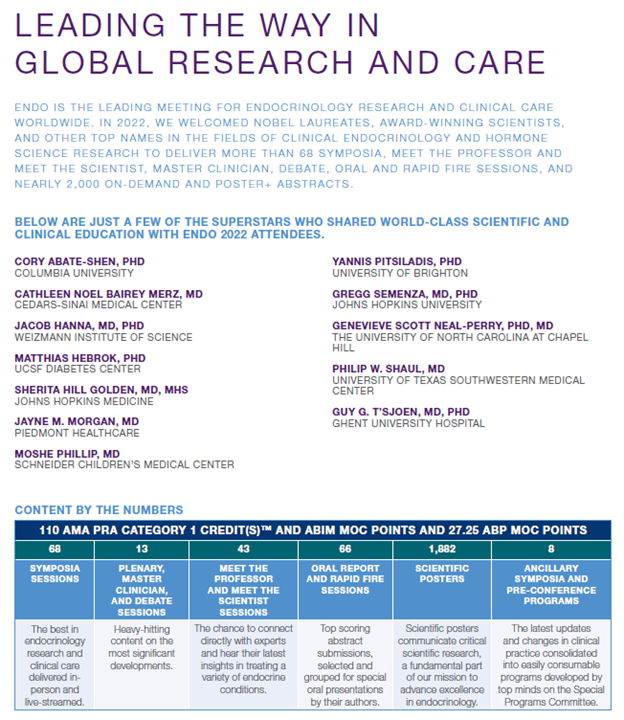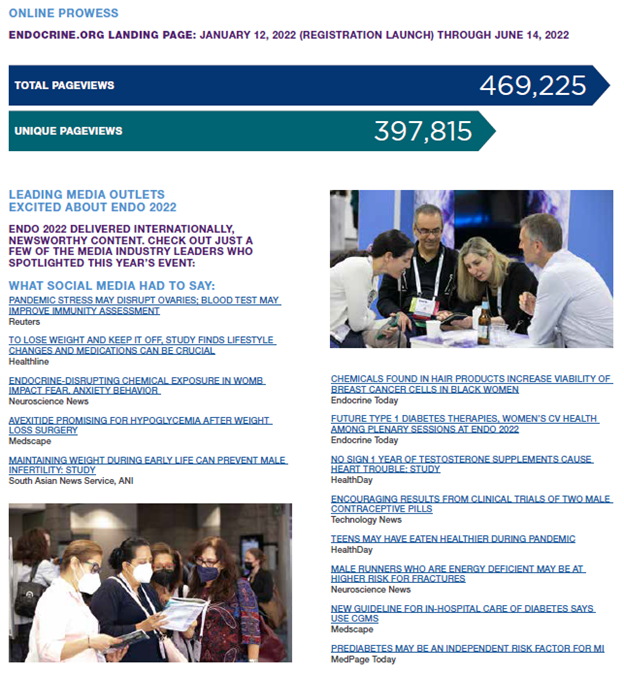 Exhibiting Information
In-Line Booth: $3,895.00 per 10'x10'
Not for Profit: $1,950.00 per 10'x10'
Corner Booth: $4,195.00 per 10'x10'
Island Booth: $44.00 per square foot
Important Note
In addition to exhibit space for the duration of ENDO 2023, the price of exhibit space includes:
Booth carpeting at the exhibitor's expense is required.
*Delivery format(s) of the ENDO program is at the Endocrine Society's discretion.
Important Deadlines
November 18, 2022:
Deadline for exhibitors to apply using priority points. A 50 percent deposit is due with application. Full payment must accompany applications received after March 25, 2023.

February 24, 2023:
Deadline to cancel exhibit space incurs a 25 percent booth fee penalty

March 25, 2023:
Final booth payments are due for booth applications received before this date.
Deadline to cancel exhibit space incurs a 50 percent fee penalty
Exhibit space cancellations received after this date incur a penalty of 100 percent of the booth fee.
Booth applications received after this date must include full payment.

April 7, 2023:
Island and two-story exhibit display schematics die to Exhibit Management. Please Note: If the display includes a handing banner, hanging sign, or raised floor, specifications must be clearly marked on schematics.

April 28, 2023:
Deadline for notification of use of exhibitor designated contractor (EDC) and submission of insurance verification. All dates and times are subject to change.
Deadline to submit Food & Beverage Distribution Notification/Approval Form and Booth Giveaways/Drawings Form

June 13, 2023:
Exhibitor Move-In/Installation 8:00 AM – 5:00 PM

June 14, 2023:
Exhibitor Move-In/Installation 8:00 AM – 5:00 PM

June 15, 2023:
Exhibit Hall opens 9:30 AM – 4:00 PM
Unopposed Hours from 1:00 PM – 2:00 PM

June 16, 2023:
Exhibit Hall opens 9:00 AM – 4:00 PM
All-Attendee Reception 5:00 PM – 6:30 PM
Unopposed Hours from 12:30 PM – 1:30 PM
Exhibitor Appreciation Reception (Location TBD) 4:00 PM – 5:00 PM

June 17, 2023:
Exhibit Hall open 9:00 AM – 2:00 PM
Unopposed Hours from 12:30 PM – 1:30 PM
Exhibitor Move-Out/Dismantle 2:30 PM – 12:00 AM
Meet the Team

Rick Felperin
A. Fassano & Company
Exhibit & Sponsorship Sales
Phone:+1.856.637.3301
Megan Haynes
A. Fassano & Company
Sponsorship Development & Fulfillment
Phone:+1.856.344.3668
Deborah Howley
A. Fassano & Company
Booth Assignments
Phone:+1.856.302.0891
Katarina Herrmann
A. Fassano & Company
Exhibit Logistics
Phone:+1.856.302.0887