Pediatric Endocrinology
Hormones play a central role in driving a child's growth and development. Problems with growth, puberty, and sexual development often have their roots in the endocrine system.
Our members are searching for new ways to understand and treat endocrine conditions that affect children. Our Clinical Practice Guidelines provide guidance on evidence-based treatment for congenital adrenal hyperplasia, pediatric obesity and gender incongruence, commonly known as being transgender, and hypothalamic–pituitary and growth disorders in survivors of childhood cancer.
To learn more about our guideline on hypothalamic-pituitary and growth disorders, tune into episode 5 of our podcast, where Charles Sklar stresses the importance of screening for endocrine disorders in long-term survivors of childhood cancer. Also, keep your clinical practice up-to-date with our free CME activity titled Hypothalamic-Pituitary and Growth Disorders in Survivors of Childhood Cancer: An Endocrine Society Clinical Practice Guideline Educational Activity. And our Endocrine Society Thematic Issue: Pediatric Endocrinology 2018 features clinically relevant topics and basic science articles focused on pediatric endocrinology.
When teenagers and young adults need support switching to adult healthcare providers, our transitions of care resources can help bridge the gap.
Featured ENDO 2019 Sessions
To view all Endocrine Society session recordings on Pediatric Endocrinology, check out the Center For Learning for educational and professional development opportunities.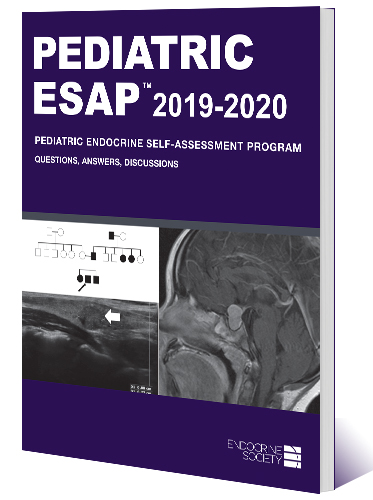 The only comprehensive self-assessment resource in pediatric endocrinology, the Pediatric Endocrine Self Assessment Program (Pediatric ESAP™) 2019–2020 is based on the American Board of Pediatrics' exam blueprint. Comprehensive and concise, it includes 100 new clinical case vignettes.
Visit Hormone.org for information on: